An Elementary School Classroom In A Slum
Through this article, we are providing you with a detailed abridgement of the class 12 poem An elementary school classroom in a slum by Stephen Spender. The writer describes the inequalities commonly faced in our society.
He gives a lucid description of a classroom by taking into consideration two different worlds i.e. world of rich and poor. The widened gap highlights disparities and unequal treatment. The poet focuses on the conditions of school as well as student's life.
---
About the poet: An elementary school classroom in a slum
Stephen Spender was born in London and was a very renowned poet who was known for his great works and through his poems, he expresses for the troubled and politically hit masses. He focussed on the humanistic approach and among his many works include the most famous ones are; Trial of a judge and Still play. 
In this poem,  an elementary school classroom in a slum, he laid emphasis on the disparity and gap between rich and poor. The poet seeks attention towards these deprived slum children.
---
Central idea: An elementary school classroom in a slum
The poet seeks everybody's attention towards the deprived life of children living in the slum of Tyrolese Valley of Austrian Alpine Province. they are devoid of socio-economic resources and are very lean, skinny and have a bonny figure. Being weak and undernourished, they do not get to enjoy any fruits of life.
He makes an appeal to the so-called educated sections to try to make some changes through education. He raises his concern for the slum children to provide them with equal opportunities to excel in all walks of life in return removing injustice and poverty.
---
Poem's Analysis: An elementary school classroom in a slum
Stanza1

Far far from gusty waves these children's faces.

Like rootless weeds, the hair was torn round their pallor:

The tall girl with her weighed-down head. The paper seeming

Boy, with rat's eyes. The stunted, unlucky heir

Of twisted bones, reciting a father's gnarled disease,

His lesson, from his desk. At the back of the dim class

One unnoted, sweet and young. His eyes live in a dream,

Of squirrel's game, in a tree room, other than this.
The poet describes an elementary classroom in a slum where children are in a very distressful state. Their faces are dull and lack energy, compared to unwanted weeds and totally neglected. The tall girl seems to be weighed down with a load of her misfortunes.
Her head is down with shame. There is another boy whose eyes look like a rat showing greed and his physique is compared to a sheet of paper. Another unfortunate boy inherited his father's disease. His body is deformed and underdeveloped. All of them looked untidy, deprived of amenities of life.
But at the back of this dim class sits a sweet young boy whose eyes are full of dreams lost in his own bright world. He was not attentive rather interested in the squirrel's game full of curiosity and fun. He wants to be free but he could not.
Meanings
Gusty waves: breezy winds

Pallor: dull face

Stunted: malnourished

Gnarled: rough

Weeds: unwanted plants

Paper seeming boy: Very thin boy, as thin as a sheet of paper

Heir: Successor
Literary Devices
Simile: children compared with rootless weed (like a rootless weed)

Metaphor: boy is compared with paper (paper seeming boy)

Repetition: use of far to stress on the distance
---
Stanza2

On sour cream walls, donations. Shakespeare's head,

Cloudless at dawn, civilized dome riding all cities.

Belled, flowery, Tyrolese valley. Open-handed map

Awarding the world its world. And yet, for these

Children, these windows, not this map, their world,

Where all their future's painted with a fog,

A narrow street sealed in with a lead sky

Far far from rivers, capes, and stars of words.
The poet expounds on the walls of the school which are cream in colour like sour cream which means they are not clean, not painted. The walls are covered with many charts and drawings given as donations by people.
There is a picture of Shakespeare showing daybreak along with this picture hanging a famous picture of Tyrolese valley. The image of a map though gave them a chance and hope to explore but seems to be inapposite because children live in a completely different world full of gloominess and darkness.
The children are very far away from the adeptness and colours of life. They have limited opportunities and remain in dismay their future is painted in fog. Instead of the clear blue sky, they are living under a lead sky away from natural surroundings lacking beauty, stars, etc. 
Meanings
Sour: unpleasant, here refers to the colour of sour cream -off white of the walls

Donations: alms

Dawn: early morning

civilized dome: here, it means rising sun at the horizon which is in the shape of a dome 

Tyrolese valley: A beautiful ice-free valley in Austria
Literary devices
Metaphor: Walls are described to be dull as sour cream 

The future of the kids is described as limited 

Assonance: repetition of vowel sound 'e' 

Allusion: Reference to a well-known person or place 
---
Stanza3 

Surely, Shakespeare is wicked, the map a bad example,

With ships and sun and love tempting them to steal—  

For lives that slyly turn in their cramped holes

From fog to endless night? On their slag heap, these children

Wear skins peeped through by bones and spectacles of steel

With mended glass, like bottle bits on stones.

All of their time and space are foggy slum.

So blot their maps with slums as big as doom
Here Stephen lays emphasis on the slum children fighting daily unarmed troubling with their diseases but in disdain. For them, Shakespeare appeared to be a wicked man as literary pieces of stuff are far fetched things for them.
Their world is gloomy and confined to narrow streets of dirty lanes. They are deprived of happiness and want joy like other children of the same age. Sometimes feel cheated being devoid of basic amenities of life but are forced to live in such conditions full of dirt and garbage.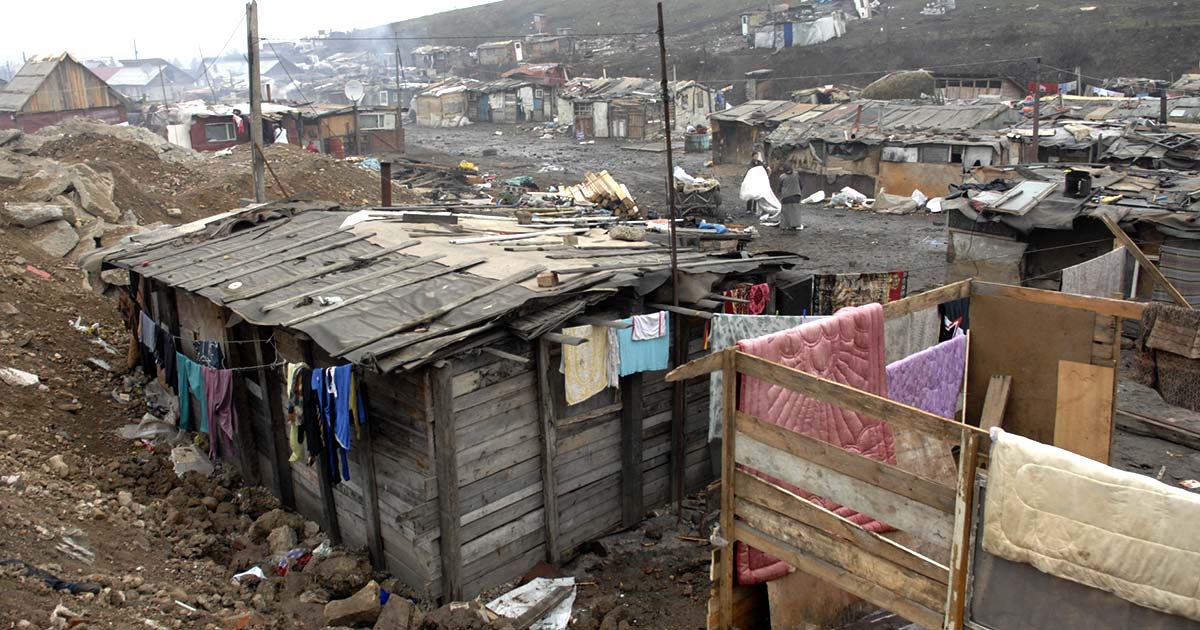 These children look very weak and malnourished with their bones peeping out. Even the lenses look made of steel and look cheap discarded by the rich and mended and worn. Their chance of getting out seems to be pushed away after building shantytowns.
Meanings
Wicked: evil

Tempted: convince

Slyly: trickily

Cramped: confined

Slag: weak, fragile

Mended: repaired

Blot: to mark with a spot

Doom: disaster
Literary devices
Metaphor: Their homes are very small like holes 

Simile- their repaired spectacles

Alliteration: Use of 'f' sound 
---
Stanza4

Unless, governor, inspector, visitor,

This map becomes their window and these windows

That shut upon their lives like catacombs,

Break O break open till they break the town

And show the children to green fields, and make their world

Run azure on gold sands, and let their tongues

Run naked into books the white and green leaves open

History theirs whose language is the sun.
The poet wants the government to pay heed to these slum children. He urges them to change their lives and bring the world map and their dreams to excel come true. The school comes alive on spring days or when any visitor or governor comes for a visit otherwise they continue to slither like this in the dirt.
But still, the poet is sure about their revolution. One day it breaks all the shatters and runs into green fields. The shining golden sand under their feet and the blue sky above their heads will be their world, the world which provides knowledge and inspiration.
Here, white leaves depict books and green leaves nature; they don't know the tongue of the confined classroom; they know the language of the world to connect.
If these would get to enjoy the opportunities of life they will extinguish their hunger for knowledge. With this note of optimism, he ends his beautiful poem about slum children living in their own world of big dreams. 
Meanings
Catacombs: tomb, cemetery

Azure: deep blue
Literary devices
Metaphor: books and nature are expressed in form of white and green leaves

Anaphora: Use of repeated words in two consecutive lines 
---
Conclusion
To sum up we have taken a brief idea of the poet's mind how he feels sad and helpless after seeing their pitiable conditions. For them, the world seems to be very far away as the shantytowns are continuously building. They are deprived of basic amenities of life but moreover, they are not even loved and cared for and end up mingling in groups.
In the summary of An elementary classroom in a slum, the poem focuses on their conditions of living far away from basic needs striving for good days and love. He urges the government to take some initiative to remove slums and give them a better life to survive.
The poem teaches us the importance of education in everyone's life. He was hopeful that they all are capable of dreaming, only they need an opportunity.
Related Articles